Why We Are Excited to Partner with Fin Capital
Yesterday, I announced the formation of Salt Labs, Inc., my next company. The mission of Salt Labs is to enable hourly workers to own the long-term value of their work. We envision a future where workers are able to capture the value of their work beyond their hourly wage, leading to greater financial freedom and long-term wealth creation. Salt Labs believes that by modernizing the total rewards structure for workers, companies can better align their long-term interests with those of their workers.
This is a big idea. And one that's never been done before. So when Rob Law, other members of the founding team, and I were strategizing about who we wanted to lead our pre-seed financing, the answer was unequivocally clear: Logan Allin and the team from Fin Capital. Rob and I know Logan well from our time at DailyPay where he serves as a member of the board of directors. I first got to know Logan back in 2017 when he was working in corporate development before launching what has now become one of the preeminent financial technology venture capital firms in the world. Logan co-led DailyPay's Series C and has been an ardent supporter of DailyPay's business, its founders and employees, and our mission. There were just so many reasons why this partnership was an obvious one to form and so I've included three of those reasons below:
First and very simply, we wanted to work with a top decile investor in our sector. Fin Capital's approach to building long-term relationships with founders and companies is a big reason why they've been part of so many success stories in financial technology. More importantly, they have their finger on the pulse of the strategic priorities of large corporates, financial institutions, regulators, and other investors. Last year, Fin Capital was the second most active financial technology investor in the world.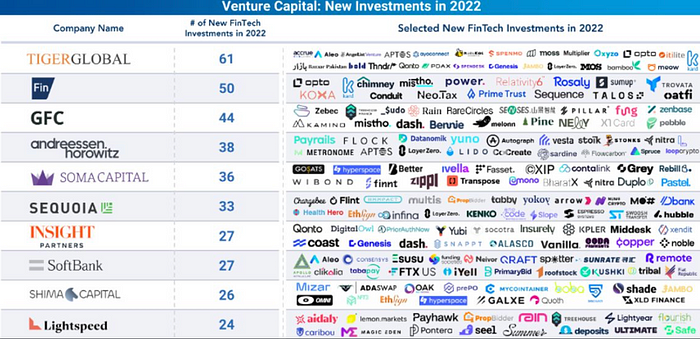 (source: FT Partners)
One of the better kept secrets for founders who raise venture capital is something called the "Founder's Choice Report." This is an annual ranking by founders of all venture and growth investors across all industries, regions, and sectors. Fin Capital was ranked across all founders in the top 100 investors globally despite only investing in one sector. I'm proud to share this same view of Fin Capital as other great founders and entrepreneurs. Investing is like any other business: there are top performers, average performers, and poor performers. It was important to the founding team that we partnered with a top performer with a stellar track record, pristine reputation, and deep relationships.
Second, while Rob and I built a double unicorn at DailyPay, we are the first to tell you that there's still so much we don't know versus what we do know. Self-awareness is a critical input to building an extraordinary business. At DailyPay and now at Salt Labs, Rob and I have always espoused a "students first" mentality where we approach problems with sincere intellectual curiosity and humility. We love and respect that Logan, Christian, and the Fin Capital team share that same mentality. We are all here to serve businesses, serve people, and to build another generational company. There is just no room for ego, tropes, or other tomfoolery.
Finally, one of the hardest things about starting a new company after you've successfully built one before is this ominous feeling that you're constantly behind. In other words, since you know what success looks like, everything you do until you reach that point of success again frankly feels (and looks) like failure. In my early days of thinking about Salt Labs, Logan encouraged me to slow down. He pushed me to think more critically about our mission, challenged me to evaluate different operating models, and perhaps most important, to take more vacation and to spend more time with my family (including my newest Salt Miner, Grace Victoria Lee, who arrived this past November!). This is exactly the kind of thought partner the founding team wanted.
Today is literally ground zero for us here at Salt Labs. We are staring at a huge mountain that we need to scale but we are fortunate to have amazing backers, including Fin Capital, Anthem Venture Partners, Vera Equity, and several others, who believe in the founding team and believe in our mission.
SOURCE: Medium