Introducing Luminary: Technology Transforming Wealth Transfer
Luminary is a collaboration platform bringing new efficiency to how advisors connect client assets with legacy goals. Today, we're announcing that we've raised $9.5mm in capital led by 8VC, along with VCs and strategic investors including Fin Capital, Focus Financial Partners, Rockefeller Asset Management Technology Ventures Group, and several family offices.
The Next Big Thing
More than $80 trillion* will pass between generations in the decades ahead. As this unfolds, asset owners are looking to wealth advisors to help them create tax-efficient ways to achieve their family and charitable giving objectives. In a recent survey, high net worth clients cited the following services as three of the top five they expect from their advisor.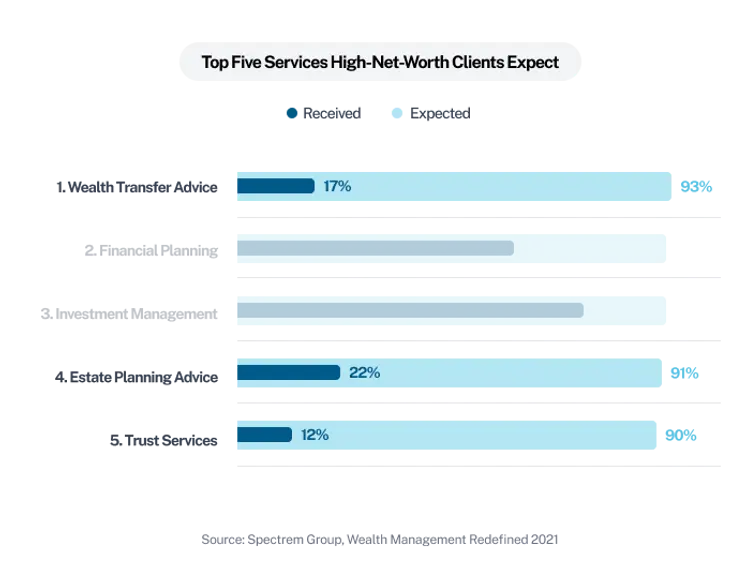 Despite this desire, there are major gaps in what clients report they're actually experiencing. We believe this disconnect results from the lack of technology innovation needed for advisors to deliver complex trust & estate planning and administration at scale.
At a time when many investment services have become commoditized, the convergence of the upcoming generational transfer and vast, unmet client needs presents wealth managers a new opportunity to create and demonstrate value.
We think this is the next big thing in fintech, and we started Luminary to lead the way.

Hiding in Plain Sight
Even among industry professionals, many people are surprised by how much tangible value trust & estate services can create. We calculate the incremental impact associated with planning, or "tax and transfer alpha," as comparable to what investors generally expect from best-in-class performance in many asset categories.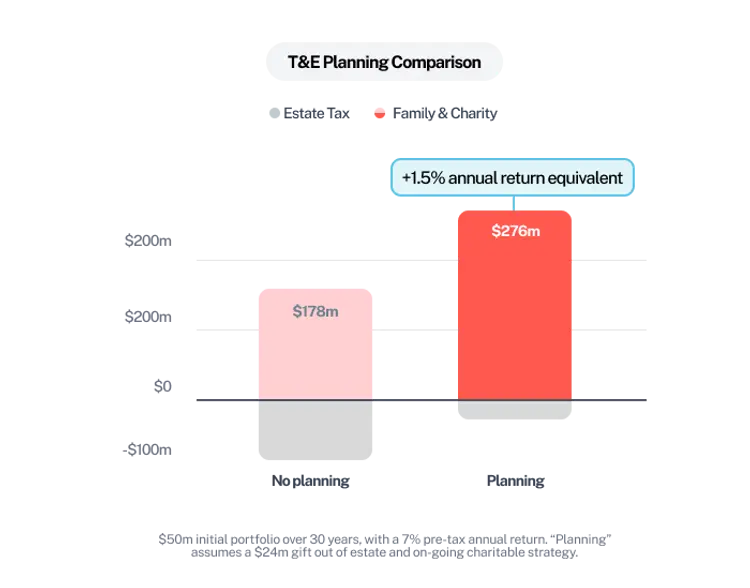 But, because the data necessary to measure this is non-standard and distributed across multiple systems, there is no way to systematically quantify or report it. This results in value that is underappreciated by clients, even where T&E planning services are being delivered. And, in many more cases, opportunities that are simply missed.
At the heart of the matter is a series of unconnected, analog steps that define much of the effort and expertise across today's trust & estate planning ecosystem. However, these problems are solvable with integrated analytical and workflow tools, and platforms enabling critical engagement and coordination with legal and tax advisors.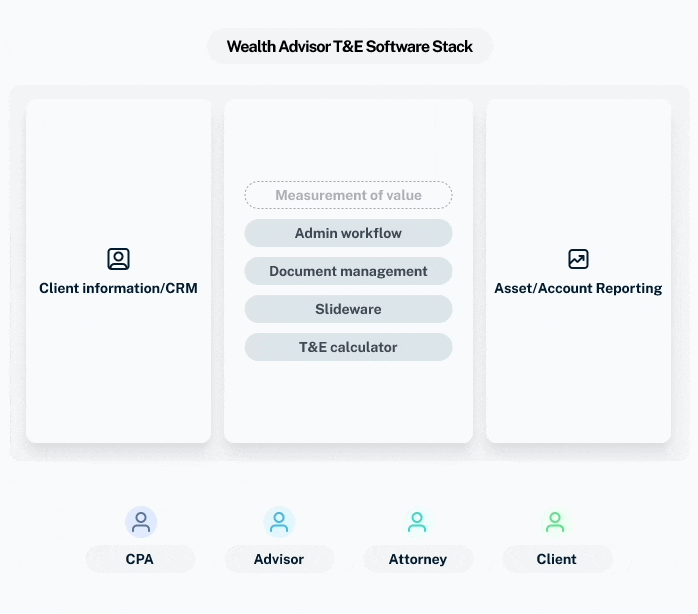 With the enormous value associated with wealth transfer hiding in plain sight, and client demand prompting the wealth management industry to offer expanded and differentiated services, the time has come to elevate T&E to a core product class, on par with investment management.

Powering the Meaning in Money
We built Luminary as a collaboration platform, digitally connecting experts with the strategies and data needed to realize life's most important goals. As the new system of record for T&E, our technology will power the next generation of advisor services, helping more people fulfill their generational and philanthropic legacy objectives, and unlock more meaning in their money.
---

About Luminary
Luminary Platforms, Inc. is a vertical SaaS company building trust & estate enablement technologies for advisors serving asset owners. We were founded in 2022, and are based in New York City.
Our team has deep experience in both wealth management and in building successful software businesses. Our backgrounds include AllianceBernstein, Blend, Origin, Addepar, Peloton, Coinbase, ChanZuckerberg, Compass, and Goldman Sachs. And we're hiring!
We are currently looking for backend, full stack and frontend leaning engineers who want to be part of a world-class software development culture. Our values emphasize customer-centricity, teamwork, meritocracy, and a belief that speed and quality are not mutually exclusive. If you are a proven builder, REAL, and looking for a new challenge; we want to meet you.
Learn more at www.withluminary.com or contact us directly at [email protected].
*Cerulli Report, U.S. High-Net-Worth and Ultra-High-Net-Worth Markets 2021
SOURCE: Luminary